THE PRELUDE OF Thieves Of Honor
This is the RP to make the Prelude of Thieves Of Honor.
This is what happened before the RP and why things came out like they do in it, so, lets get started.
---------------------------------------The RP--------------------------------------------------------
*He walks down the alley, heading for the bar when he hears a noise*
Wolf: What the hell?...
*Someone dashes out and tries to slash Wolf*
*Dashes out of the way quickly and speeds behind the enemy and kicks him over, then puts knife to his neck while he is on ground*
Wolf: Tell me why I shouldn't kill you right now?
???: Hehehe... because if you do you'll be wanted and everyone will be after you.
Wolf: Wait... your part of the Royal Family aren't you!?!?
???: Yes, and tell you what, I won't tell anybody about you attacking be if you make a deal with me...
Wolf: What?
???: If you steal me lots of Jewels and bring them to me, I might let you live...
Wolf: ...
???: Bring them to me in Sol, and I might deem you worthy of freedom... *Fades away into the Shadows*
Wolf: ...
Luna: Wolf?
Wolf: ...
Locke: Wolf you okay?
Wolf: Were headin' to Sol.
Locke: What for?
Wolf: I'll tell ya on the ship now get goin.
Chapter I: Thieves Of Honor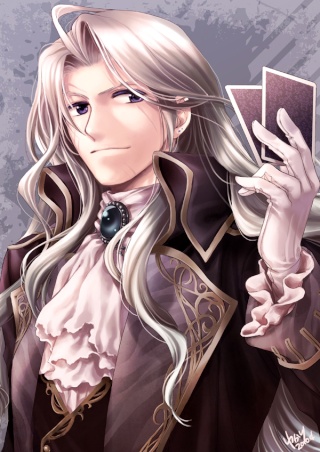 Bluestar90210

MI6 Leader





Posts

: 190


Join date

: 2011-12-22


Location

: New Mexico USA



Wolf never saw any Royal Family like this one, he thought it was a possible Assassin, as they always looked for money and the Royal Family protected them. It's been the second time Wolf had to travel through the desert, but he took a shortcut by sailing to the edge then going straight for Sol. They traveled through intense heat, stomped through the soft, sinking sand, all the way to Sol. There, they could find lots of Priest's Jems and return them to the Assassin who told them to meet there.

Bluestar90210

MI6 Leader





Posts

: 190


Join date

: 2011-12-22


Location

: New Mexico USA



Locke: Are we there yet?

Gimme a Cookie

Member




Posts

: 45


Join date

: 2011-12-27


Location

: Long Island, NY



*Looks over horizon and sees the adobe Castle* Wolf: Yes! Were here finally, this is the city of Sol!

Bluestar90210

MI6 Leader





Posts

: 190


Join date

: 2011-12-22


Location

: New Mexico USA



---
Permissions in this forum:
You
cannot
reply to topics in this forum